1. Movement, Approach and Scope
The team selected the Light and Space Art Movement. For me this is partly because I am moved by the ephemeral work of Olafur Eliasson ( The Weather Project (2003), Your Blind Passenger (2010)); partly because I love the light & space of seascapes and big scenery; and also because of my background in materials engineering and the movement's exploration of the interactions between materials and light.
Starting our research in the GSA Library, we identifed relevant resources and created a padlet as a moodboard for capture and exchange of ideas. We discussed our skills, backgrounds, specific interests and preferred ways of working (collaborative, face to face, creatively curious & evolving beyond 'starting with the end in mind'). We shared upcoming time commitments and aspirations, which formed the basis of our psychological contract and management plan for the project. We wished to test an organic, responsive collaboration rather than detailing task ownership at the outset, but agreed to consciously check how this was working every week.
Initial research identified the core and extended artists involved at the start of this USA movement, key gallery involvement, material about retrospectives and influence on contemporary light artists. It was surprising to learn of the close interaction between artists and industry at the time, and their joint experimentation with the optics and properties of emerging materials technologies, particularly plastics.

Read:

Butterfield, J., (2020),
The Art of Light and Space,
Abbeville Press, USA.
Eliol, C., Conaty, K., Govan, M., Wechsler, L., et al,
Light, Space, Surface: Art From Southern California,
USA,
Distributed Art Publishers.
Watched:
Artbound USA :The Art of Light & Space, [Film], Dir. Ding, S., Labella Films /Public Media of SoCal,
https://www.kcet.org/shows/artbound/light-imitating-art-the-magic-of-the-light-and-space-movement
Development Padlet

https://glasgowschoolofart.padlet.org/abell266/lqjw95me2rcz0f2y
2. Initial Footage
Embedding in the topic, I read books about the artists. The movement was considered niche at the time, only recently gaining recognition, so there is sparse media from the 1960s. I researched archive footage of emerging materials & fabrication modes, lighting developments, 1960s/70s sound, corporate infomercials and Southern California location. I also approached materials companies (e.g. Rohm & Haas, Dow, Du Pont, Lucite) for direction to their archives. Footage selected was a leading indicator of post war industrial futurism, linked to the space frontier, with specific voice and music soundmarks of the era.
I watched a range of poetic style documentaries, to understand how they convey information with minimal narrative. In the Qatsi trilogy I was struck by the chanting and musical repetition in Philip Glass' score, which created an otherworldly ambience, while changing instruments reinforced visual transitions. The use of repeated brass notes created alarm intervals, while the use of time lapse photography and camera 'journeys' seemed to pull me into the screen. The films were similar in their form of guided meditation.
I agreed to focus on documentary visuals, and selected images of works from the movement to trial in poetic style, arranging and layering them to transition into each other when edited into video. I then selected archive clips which would contrast with the prior transitions, reflecting philosophies of the movement - reject fast paced life, distraction and reverence for objects in favour of stimulating heightened awareness through slow, embodied perception.
Read:
Auping, M., Hanor, S., Kohn, A., Schuld, D., Clark, R., Davie, H., (2011)
Phenomenal: Light, Space, Surface,
USA, University of California Press.
Feldman, M., (2015),
Another Minimalism: Art After California Light and Space,
Edinburgh, Fruitmarket Gallery
Ursprung, P., (2016),
Studio Olafur
Eliasson: An Encyclopaedia,
Multilingual Edition
,
Taschen, Berlin
Documentaries Watched:
Koyaaniskatsi: Life Out of Balance, (1982), Dir Reggio, G., [Film], USA, Island Alive & New Cinema
Powaqqatsi: Life in Transformation, (1988) Dir Reggio, G., [Film], USA, The Cannon Group
Anima Mundi, (1991) Dir Reggio, G., [Film], USA, Miramar Films
Bakara (1992) Dir Fricke, R., [Film], USA, Samuel Goldwyn Company
Naqoykatsi: Life as War (2002) Dir Reggio, G., [Film], USA, Miramax Films
Samsara (2011) Dir Fricke, R., [Film], USA, Oscilloscope Laboratories
Archive Footage Watched:
Light of Your Life, (1949), Dir. Wolff R.G., [Film], USA, General Electric Co. Music - composer not attributed.
Looking Ahead Through Plexiglass
,
(1957), Dir. Handy, J., USA, Rohm & Haas Co. Music -composer not attributed.
The Conquest of Light
,
(1962), Dir. Cohen, P., [Film], USA, AT&T Co. and Bell Labs. Music -composer Segall, B.
White Magic
,
(1940), Dir. Handy, J., USA, General Motors Corp. Music -composer not attributed.
Wonderful New World of Fords, (1960), Ford Motor Company, USA -no attribution.
3. Interview

Ahead of seeking interview candidates, I assembled the project administration - crafted a project plan, reviewed ethics and risk assessment protocols for pertinent concerns, and accessed recording and archive consent forms. I approached four galleries with links to the movement - through current or historical retrospectives, ownership of work, or influenced to support new work in that style. Michiel approached some leading artists. Having low leverage as students, we tried to hook interest using a new angle - new work in response to existing work, sonically and through digital light. Approaches on three fronts (outreach, educational and curatorial departments) resulted in engagement, but I learned that these large organisations allocate resource strictly within their own hierarchy of priorities, so it became clear that our timescales were different. I then focussed on direct approaches to light artists who had more autonomy and short term availability, using my network to navigate to Nick Simpson via instagram, a light artist and gallery curator in Lincoln.
I prepared a question list and interviewed Nick online over Zoom. In case there were any recording issues, I simultaneously recorded with contingency equipment of a DLSR camera, H2N zoom recorder and iPhone -perhaps overkill but I was aware of the value of the subject's time and didn't want to miss the opportunity due to a technical issue. I found interviewing (i) easy - because I'm authentically curious and enthusiastic about different human experiences (ii) challenging - because it's difficult to ask questions, listen to the answers while preparing the next question and keep a sense of conversational flow without interrupting the subject.
https://
www.instagram.com/simpson.nick/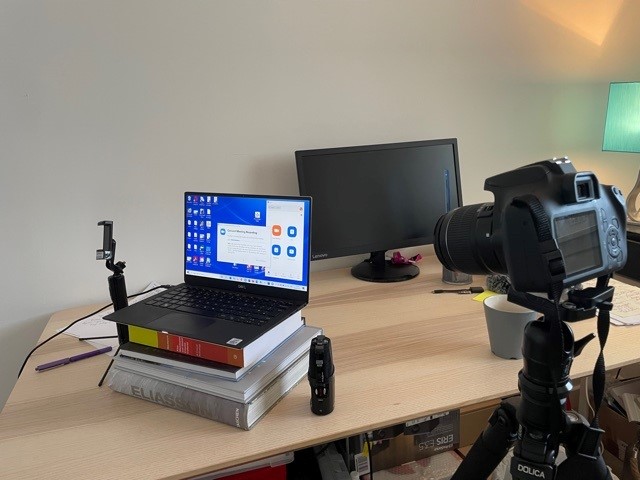 4. Documentary Edit & Artistic Development
We completed a draft edit and reviewed together, making decisions about the staging of information delivery and format. We had some issues with media transfer when remote - AAF files with missing tracks on a computer in the Hub but which worked on a personal laptop. I revisited the relevant lecture videos to check I was exporting correctly. We experimented with different file sharing platforms - sharepoint links and wetransfer worked best. In tutorial, we discussed the pros and cons of voice over vs. title cards to convey information without breaking the poetic mode, deciding to use title cards.
As personal reflection and response to the Light & Space artists, I developed new artwork. Selecting images from the film, I manipulated them digitally and projected them onto shiny surfaces and through lenses, prisms and water. I photographed & filmed the images and repeated the process. I discovered that projecting onto lustrous metallic surfaces creates a lot of glare, whilst sharp edged images work best for projecting through prisms. I completed a Health & Safety review and risk assessment before creating at home, as some of the work was on a blacony at night. This work became the backdrop for title cards and also the end of the film.
In peer review, the aim of creating a meditative gaze for sections of the film seemed to work well. The film was shown unmixed, so feedback about sharp voice drop off and hiss in some areas was expected. We had discussed the merits of using a 4:3 aspect ratio to reduce the frame and focus the eye on the artworks - no-one noticed this which confirmed our decision to retain this ratio. The accessibility issues of using title cards were challenged, and we agreed that further versions could include (i) a voiceover instead of titles, additionally explaining light and space art poetically (ii) full subtitles using otter.ai transcript exported to an SRT file.
Project Management